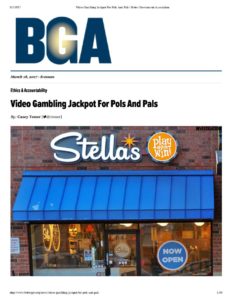 Video gambling exploded in Illinois about the time I left to work for the Mobile Press-Register in Alabama.
After I left, thousands of video poker and slot machines placed in bars, gas stations, fraternal organizations, and restaurants began collecting millions of dollars in gambling revenue and returning a small portion of the windfall to the owners of the gambling establishments as well as the owners of the machines. The surge of new money and its intersection with government caught my interest.
I wrote a series for the Better Government Association about the expansion of video gambling at struggling taxpayer-owned owned golf courses, the surging influence of video gambling money into campaign financing, and how some local politicians used their clout to enrich themselves through video gambling.